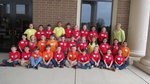 The Albertville Elementary School Technology Team competed in the NorthEast Regional Technology Competition at Northeast Alabama Community College on Friday, April 4, 2014. The AES technology team is comprised of 30 4th grade students and sponsor, Dianna Adams. Twenty four projects were entered in four categories: General Applications, Video Production, Multimedia, and Website Design. Some projects were individual projects while others were created by teams of two, three, or four students.

Albertville Elementary brought home 14 medals winning 1st, 2nd or 3rd place! As part of the judging process, students shook hands with the judges, explained the research process for finding information on their chosen topic, and shared how they created their project using various technology resources. Students used the "Double I M" Research Method (Independent Investigation Method) to find factual information, take notes, organize their facts, and plan out each project.

All of the students did an outstanding job of presenting their projects with pride and represented our school and city with polite manners.
Team Members
Jaden Holland, Aislie Casey, Harper McCreless, Brady Quarles, Caroline Thomas, Ella Kate Jones, Meri-Lil Massey, Tristan Golden, Olivia Wood, Jaylee O'Dell, Daniel Pall, Jensyn Seay, David Garcia, Drew Shankles, Kobe Korsmo, Logan Carmichael, A.J. Hannon, Canaan Jones, Alex Branch, Ethan Barry, Emma Currier, Julissa Benitez, Will Broadhurst, Canaan Claborn, Jonah Bilbrey, Adyson Brandon, Elaina Collins, Marianna Aguilar, Kinsley Little, and Kayla Romero.

AES Winners

Information Technology Test
3rd place - Elaina Collins
General Applications
Individual Category: 2nd place - Elaina Collins (Project: Six Flags Over Georgia Brochure)
3rd place - Brady Quarles (Project: AES Brochure)

Group Category: 3rd place - Elaina Collins and Meri-Lil Massey (Project: Georgia Aquarium Board Builder)
Website Design
Individual Category: 1st place - Aislie Casey (Project: Sea Turtles)
2nd place - Adyson Brandon (Project: Fashion through the Decades)
3rd place - Jonah Bilbrey (Project: Dogs)

Group Category: 1st place - Julissa Benitez and Emma Currier (Project: China)
2nd place - Canaan Claborn and Will Broadhurst (Project: Greek Mythology)
Multimedia
Individual Category: 1st place - Canaan Jones (Project: All about Horses)
3rd place - Alex Branch (Project: All about Cats)
Video Production

Individual Category: 1st place - Olivia Wood (Project: Winter Olympics 2014)
2nd place - Jaylee O'Dell (Project: Dentistry)

Group Category: 1st place - Meri-Lil Massey, Caroline Thomas, Ella Kate Jones (Project:Manners Matter!)