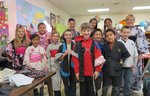 Albertville Elementary GATE (Gifted and Talented Enrichment) students were in for a treat on Tuesday, November 19th. As part of the essential theme for this year, Celebrating our Differences, GATE students learned about the culture of Japan. This year's theme promotes CELEBRATING the differences we find among one another. Everyone can find similarities and differences in those around us...by celebrating our differences we learn to appreciate others. That morning in GATE was a rare opportunity that the students and their teacher, Dianna Adams, will always remember!

Third grade GATE student, Ken Jones, brought his mom to class with two of her friends. Makiko Jones, Akemi Suzuki, and Nami Hamai brought treasures from Japan to share with the 3rd grade GATE students. Students had written a list of questions that they wanted to know about Japan. Mrs. Adams shared these with Mrs. Jones through an email the week before. As students walked into class, they were greeted by three smiling faces of beautiful, sweet ladies wearing Japanese Kimonos. Akemi is a certified Kimono master. She attended school for a year and a half in Japan to be able to become a Kimono master. Every student who wanted to try on a Kimono had the opportunity to wear beautiful Japanese clothing. The ladies brought accessories like shoes and fans, as well. Mrs. Jones shared photographs, Japanese currency (yen), books, backpacks, and answered all of the questions about life in Japan. She shared about the government, homes, holidays, clothing, food, sports, and pets.

We welcome these three ladies who are somewhat new to our area and hope they will visit Albertville Elementary again soon. Wearing the kimonos and hearing about life in Japan has opened the students eyes to a different way of life helping learn to CELEBRATE differences!

These students will create "paper blogs" about what they learned during this study of Japan. They will learn the basics of "blogging" and learn to post comments appropriately to become responsible digital citizens on the internet. The 3rd graders will share their paper blogs about Japan with GATE 4th graders so that they can learn about Japan. Fourth grade GATE students will be creating paper blogs about China to share with the 3rd graders after a special presentation by our Chinese Enrichment teacher, Mrs. Yu.